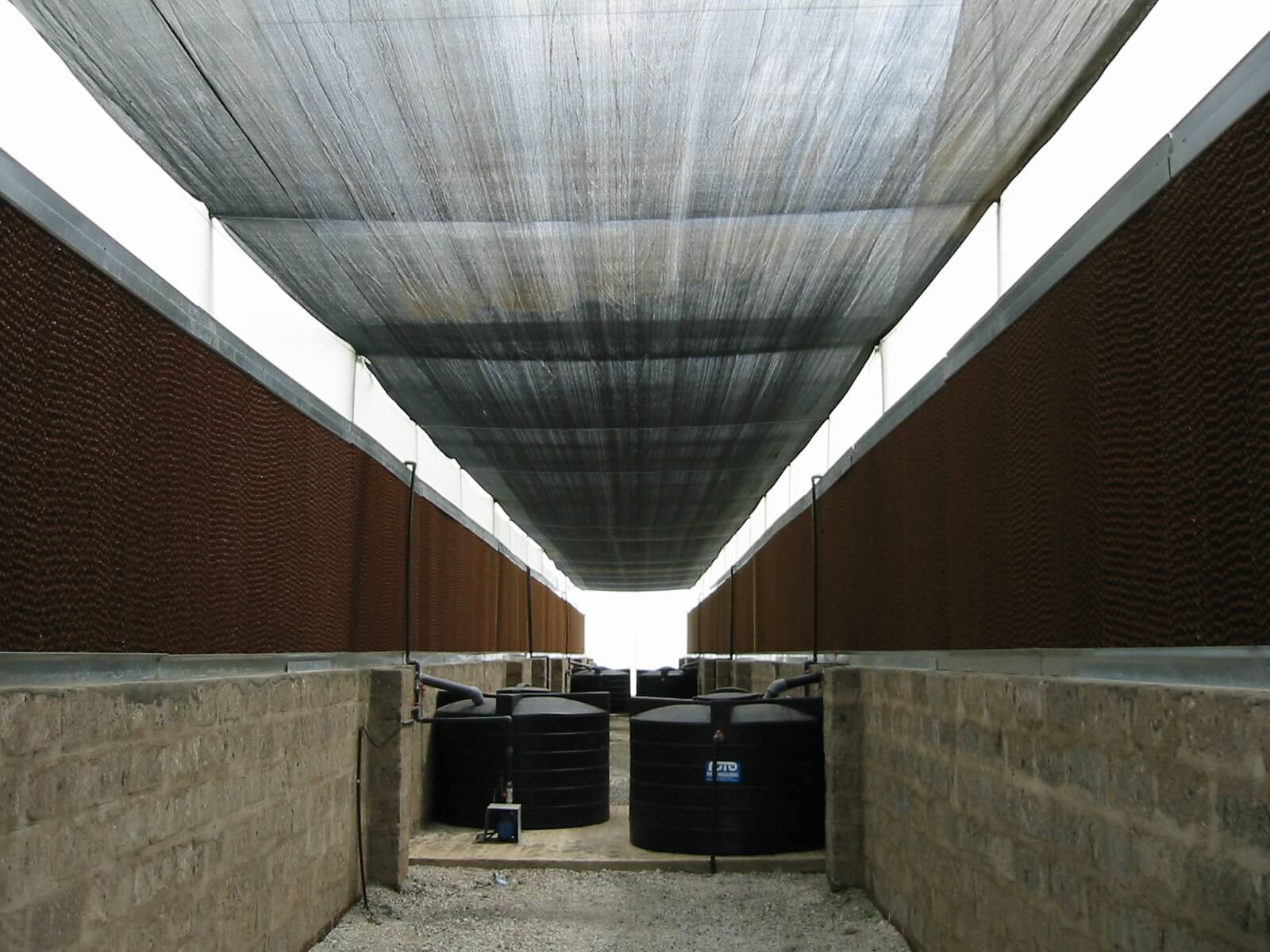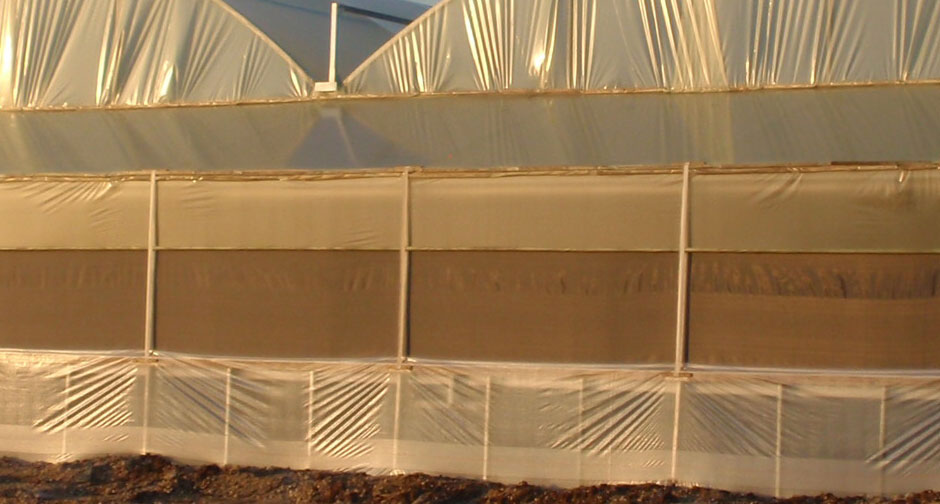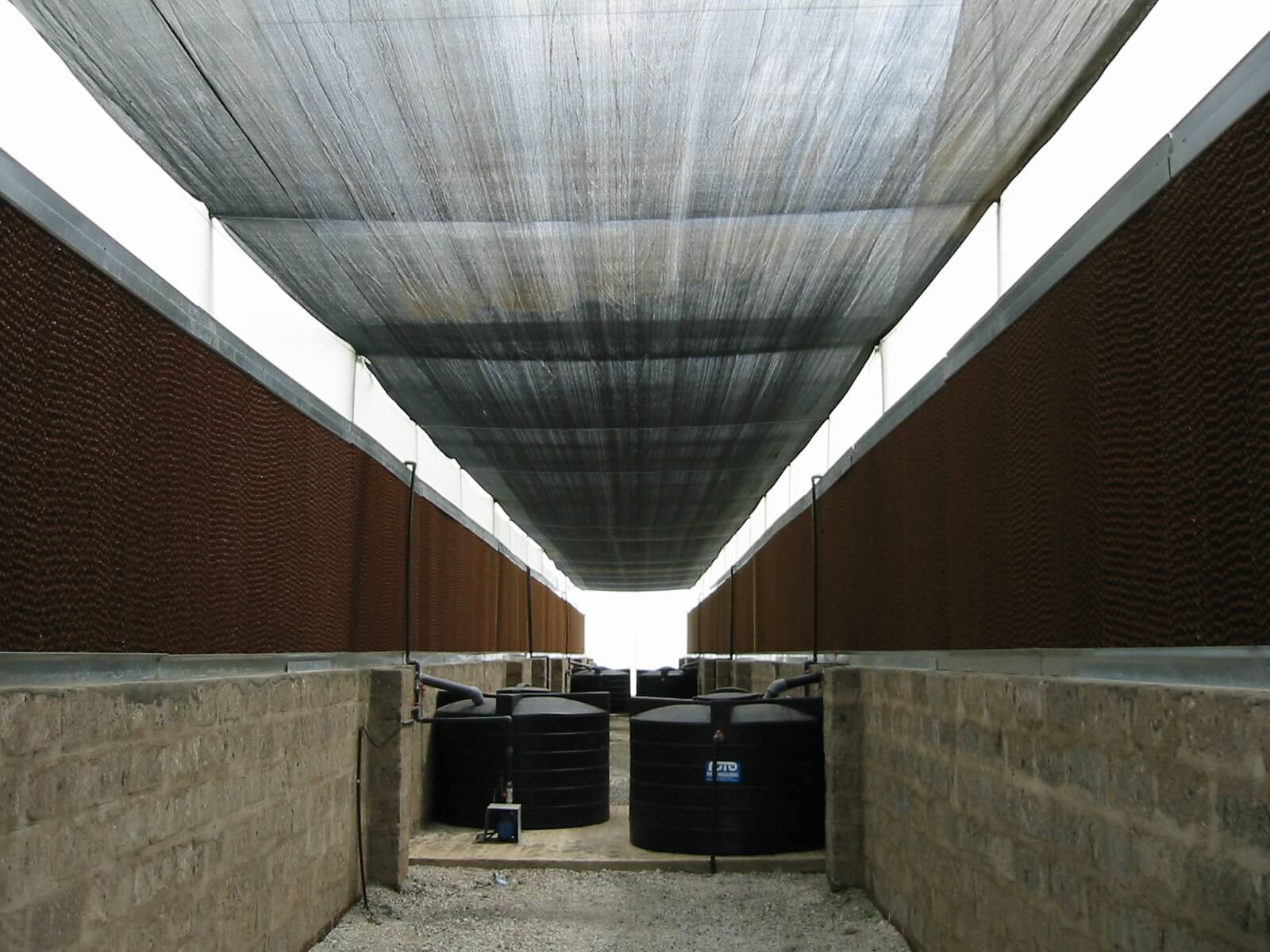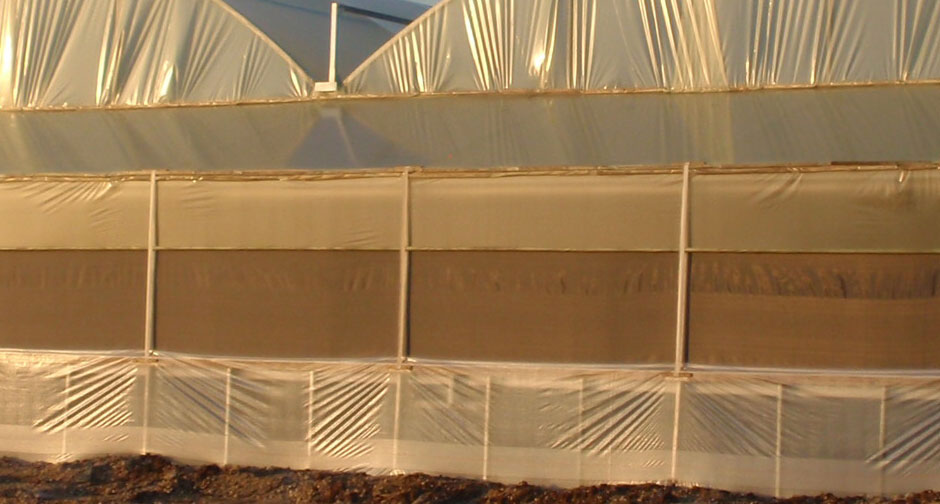 Ideal for high temperatures and low humidity levels – its original name and purpose are derived from desert areas (Desert Cooler).
How the cooling system operates:
The pad, comprised of the following components, is installed along the front of the structure:
The Humidity Pad: Tightly packed, beehive-shaped cardboard panels. The panels are placed at varying distances from each other, depending on the cooling requirements.
Water Supply System:  Pump, water trough for covering the top section of the pad, drip system for sprinkling water onto the pad.
Water Collection System:  water trough for collecting drainage water along the bottom of the pad, water tank and buoy for maintaining a sufficient water supply.
Exhaust fans are installed along the opposite side of the structure.
Download PDF
Specifications
Agro-technical limitations:
The maximum distance between fronts, (the front side with the pad and the opposite side with the fans), is 40 meters.
The greenhouse must be hermetically sealed during operation of the humidity pad. The fans serve as the sole route for the expulsion of air and the pad itself serves as the sole route for the entrance of fresh air into the greenhouse.
As the percentage of relative humidity decreases (the dryer the air), the cooling efficiency of the humidity pad increases.
The Cooling Method:
The exhaust fans suck out the air from within the greenhouse and fresh air is drawn into the structure's open space, while the pad itself serves as the sole route for the entrance of fresh air into the greenhouse.  Since the humid pad is wet, the air that enters the greenhouse through the pad absorbs the moisture and quickly cools.
Tips for ensuring the successful operation of the humid pad:
A maximum distance of 40 meters between fronts.
A hermetically sealed greenhouse during operation of the pad.
The correct dimensions in accordance with climate conditions and crop types (pads are available in widths of 1 and 2 meters, at varying levels of thickness)
Humidity level lower than 75%.
A sufficient number of exhaust fans in order to ensure proper and continuous exchange of air within the greenhouse,
Expert Project Review
Want to learn what is the most effective approach for your project? Schedule a cost benefit demonstration call with Azrom's expert.